Breaking bad news is never fun and no one likes rejection. However, for procurement professionals, it's part of the job. Indeed, for most RFPs and contracts, there can only be one winner. But, how do you tell a vendor they were not selected? In business, using an RFP or proposal rejection letter the best practice.
Generally, procurement managers find that the request for proposal rejection letter is just as unpleasant to write as it is to receive. However, it's an important part of vendor relationship management and RFP process. Procurement professionals can make it easier on themselves and their unselected vendors by following a few proposal rejection best practices.
In this blog, we'll explore what a proposal rejection letter is, why it's important, who writes it and when to send it. In addition, I'll offer a guide for writing a proposal rejection letter that lets suppliers down easy while maintaining your vendor relationships. Finally, you can review rejection letter examples and templates to help you write your own.
If you're ready to get started, you can download a vendor rejection letter template here.
The what, why, who and when of proposal rejection
What is a proposal rejection?
A proposal rejection is the formalized notification that a request for proposal (RFP) opportunity has been awarded to another vendor.
You should communicate this update to any vendor who submitted a completed RFP response, but did not win the contract. In short, the RFP rejection letter is how you decline a vendor proposal.
Traditionally, the notice is sent in the form of a letter. However, as procurement teams embrace digital transformation, some send the update through email or a centralized RFP management system. The rejection notice may also be called a vendor rejection letter, bid rejection letter, unsuccessful bidder letter or non-award notice. No matter what you call it, it's important to get it.
Types of RFP letters
As mentioned above, the rejection letter goes by many names. Accordingly, there are several types of rejection letters. Each one is suitable for a different scenarios.
Notice of proposal rejection for noncompliance:
Some people just can't follow instructions. I've talked with many procurement managers who regularly receive proposals that don't follow the stated RFP evaluation criteria. For example, if a vendor uses the wrong format, submits an incomplete response or doesn't meet the requirements, their RFP response may be rejected before it's read.
It sounds harsh, but RFPs are supposed to help you save time. So, many organizations avoid wasting time by removing flawed proposals from consideration. In this case, it can be really helpful for procurement managers to send rejection letters explaining what went wrong. You may offer the vendor an opportunity to correct the error and re-submit their proposal or simply let them know so they can put their best foot forward next time.
Unsuccessful bidder letter:
This notification is most common in the RFP process. It tells the vendor they were not selected for the contract at the conclusion of the RFP evaluation process.
Sending a proposal rejection email can create chaos in your inbox as vendors respond with questions or simply acknowledge the notice. However, RFP management software can send messages simultaneously, streamlining communications. This is the letter we'll focus on in this blog.
To learn more about the RFP management systems, download the ebook: Measuring the value of RFP software.
Award notification:
An award notification is like publishing a notice in a newspaper. It's essentially a bulletin that addresses all parties that submitted a proposal at once. It announces the winner and may include a few brief differentiators that influenced the decision.
Award notifications are most often used by government agencies. This process intends to ensure transparency because all bidders receive the same information.
Non-award letter:
When you find yourself in a true no-win situation and need to take a step back or change priorities, use a non-award letter to share the news with your vendors. This notice tells vendors that the RFP opportunity is no longer available.
Sometimes this means a delay, suspension or revision of the RFP. While the project may be revived in the future, a non-award letter explains that the procurement project has been suspended and if possible, offers some insight about why.
NOTE: If you're a vendor looking for a no-bid notice or RFP rejection letter to notify a customer that you're unable to participate in an RFP, you can download an RFP rejection letter template here.
Why formal proposal rejection is important
When you're busy, sending an individualized unsuccessful bid notice to each vendor may seem like a waste of time. However, I'd urge you not to skip it.
Remember, responding to RFPs is an investment. Each proposal is the product of hours of work from many people. For vendors, waiting for a final decision is hard enough and not hearing back at all is frustrating. Clear communication, even when you're delivering bad news, builds and maintains relationships, an important part of supplier relationship management. In addition to being a courtesy that builds trust, sending a request for proposal rejection letter has several benefits.
Be ready with a backup
Ideally, your strategic sourcing process will help you find the perfect, long-time partner, but it doesn't always work out that way. When you evaluate vendors, you will inevitably discover some partners that don't meet your expectations. Then, you'll need to reengage the unsuccessful bidders to meet your needs.
In addition, you may need to call the RFP runners up if your business grows rapidly and your supplier is unable to keep up alone. Taking the extra step to provide a rejection letter and deliver the bad news with kindness means your supplier will likely go the extra mile for you in the future.
Professional networking
The procurement and supplier networks within your industry are probably close knit. As you work with people in various roles, you'll find unexpected connections and build professional relationships.
The best sales people will take rejection with grace and stay casually in touch. If you've made a positive connection, they will likely continue to try to earn your business. However, they may also alert you to trends they've identified, innovations in the industry and potential savings.
Provide clarity
When undertaking procurement projects for other departments, communication can get confusing. The sales person or vendor may reach out directly to their original contact for updates and information. A proposal rejection letter offers closure on the project and allows vendors to refocus on other opportunities. When communicated in a centralized RFP management system, the notification is logged and can be audited.
Risk managemen

t

In addition to providing clarity to vendors about the outcome of the RFP, the rejection letter protects your organization from risk. The RFP process is designed to help make vendor selection more data driven, fair and objective. Accordingly, many government agencies rely heavily on the process to select vendors. A vendor rejection letter proactively provides information to help unsuccessful bidders understand why another business won the opportunity.
Who rejects vendor proposals?
So, who has the unfortunate responsibility of handling vendor rejection letters? Generally, the procurement manager for the project will communicate the RFP results to vendors. Consequently, this includes drafting and sending rejection letters and emails as well as following up with any subsequent questions.
When to send vendor rejection letters
In the final stages of the vendor selection process, you may find your inbox full of status inquiries from vendors. Naturally, you may be tempted to simply send out the results of the RFP just to give your inbox a break. However, I'd urge you to wait. As contract negotiations go on, it's important to still have other options available. So, wait until your contract with the selected vendor is fully executed before cutting your other RFP participants loose.
How to write a rejection letter for a proposal
A vendor rejection letter only requires three key elements. Consequently, your notice will likely fit on a single page. The essential components of your letter include recognition of their participation, the RFP outcome and next steps.
Recognition of participation:
First, begin by thanking them. As I mentioned earlier, they likely spent hours collaborating on and creating the proposal. Express your gratitude for their time and participation.
Final outcome:
Clearly state that they have not been selected for this opportunity. Some businesses name the winner in the proposal rejection letter, which can save time. Indeed, most sales people will follow up to request this information if you don't provide it proactively.
Some proposal managers take this opportunity to provide specific feedback about the content of their proposal. However, this is optional and some people find it opens the door to questions that you may not be able (or want) to answer.
Next steps:
Finally, if they are eligible, close the letter by inviting the vendor to participate in future RFPs. If you use vendor profiles, consider creating one to catalog their key information and allow them to provide you proactive updates as their organization changes.
Download a vendor profile template here.
The right way to reject a vendor: 6 things to remember
1. Provide information about why the winner was successful. How did they differentiate themselves? What sealed the deal?
2. Refer back to your RFP. When discussing the final decision, reference any relevant sections in your original RFP. For example, you may discuss the scoring criteria, required qualifications or scope of the project.
3. Customize each letter. Include specific notes about what you liked or didn't like about their process and proposal. In addition, provide any insight about why their bid was not selected. Mills & Reeve, who specialize in procurement law, advise customizing your rejection letters saying:
"Including the same standard paragraph for each unsuccessful bidder is unlikely to meet the requirements for unsuccessful bidders to be afforded a clear understanding of the ways in which the winning bid scored more highly than their own."
4. Offer to give more specific feedback. For RFPs with larger vendor pools it may not be realistic to include individual feedback. However, offer to provide additional information upon request via an RFP debrief. We all want to get better and your feedback will help make the vendor more competitive in the future, which eventually means better rates and service for your business.
5. Keep it professional and optimistic. Your letter should have a helpful, professional tone. While you want to provide general feedback, don't get too lost in the nitty gritty details. Try to strike a balance between being polite and firm.
6 Wrap up with hope or closure. Would you work with this business in the future? If so, encourage the business to stay in touch. If not, simply thank them again for their time and sign off. 
Request for proposal rejection letter examples and templates
Explore these RFP rejection letter examples and templates to see how other organizations deliver bad news to their suppliers.
Vendor rejection letter templates
This vendor rejection letter template covers the three required elements and offers instructions for use. It's a great place to start when wrapping up your RFP.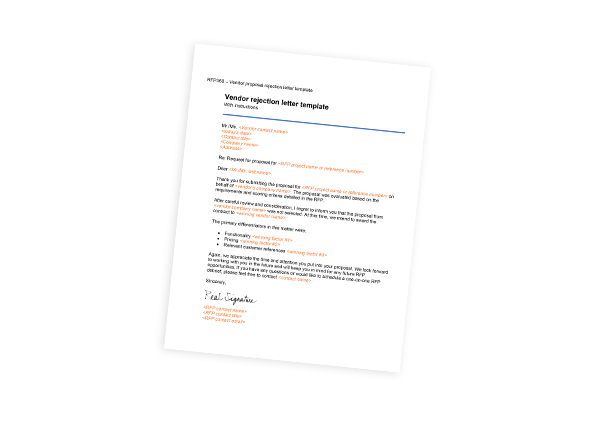 This simple award notification announces the winner of an RFP. Consequently, it also serves as the notice to unsuccessful bidders. The template is easily customizable to any business.
Non-profit organization USAID uses this rejection letter to communicate RFP outcomes to unsuccessful bidders. It is short and to the point. It is clear, however, it doesn't offer any specific information about why the bid was rejected.
Mills & Reeve offers their clients helpful guidance about how to reject vendors in this guide. Their website states the importance of completing the RFP process with appropriate award communications with this message:
"The despatch of valid unsuccessful bidder letters, together with award letters to the successful supplier(s), represents the start of the important standstill period. As such, it is important to get this right in order to manage the legal risk of a challenge and to avoid unnecessary delay to the award of the contract."
Proposal rejection letter examples
This letter is a good example of how to wrap up your vendor rejection if there is no winner for the RFP. From here, your organization may consider going back to the drawing board to issue a request for information (RFI) to help clarify their needs and next steps.
For a more casual, approachable rejection letter, check out this article from the Harvard Business Review. The article covers an array of rejection letters, but modifies them based on how close the relationship is between the buyer and vendor.
If you're looking for a more formal approach, check out this example from New York State. They call the document a non-selection notification, but in it you'll find all the elements of a proposal rejection as well as references to the selection criteria and an invitation to schedule a debrief for more information.
For as long as there are RFPs, there will be winners and losers. However, maintaining relationships with vendors, even the ones you don't select, delivers long-term benefits. A well-written vendor rejection letter conveys thanks, encourages future participation, provides valuable feedback and builds deeper connections.
Originally published November 12, 2020 — Updated December 8, 2022