Successful procurement is an ongoing process not a project. Indeed, there's more happening behind the scenes within the procurement cycle than most people think. From beginning to end, the purpose of the procurement cycle is to reduce costs, manage risk and improve efficiency. Certainly, each step of the process contributes to that goal.
In this blog we'll explore the procurement cycle. To begin, we'll define the procurement cycle as well as each of the steps that are involved. In addition, we'll share information about technology designed to improve your sourcing cycle.
Procurement cycle definition
The procurement cycle is the process of selecting a vendor, buying goods or services from them and managing their ongoing performance. Also known as the procurement life cycle, purchasing cycle or sourcing cycle, the procurement process is, indeed, circular in most cases. The steps in the purchasing cycle are:
Challenge or need identification

Approval to purchase

RFX creation and administration

Vendor evaluation and selection

Contract negotiation and payment

Implementation and delivery

Vendor performance review
7 steps in the procurement cycle
1. Challenge or need identification
Typically, the procurement cycle begins when your organization identifies a need, challenge or opportunity. This may happen at a departmental, executive or organizational level. Regardless of where the need originates, it must be defined and a solution proposed before moving forward. Often, this is done using an internal business case or requirements discovery.
Potential responses to the need:
Explore the market: Use a

request for information (RFI)

to research and plan a potential project

Leverage an existing solution: Identify an existing vendor or supplier that might be able to meet the new need
Make a purchase: Identify vendors or suppliers, establish scope and estimate budget. Then, move forward in the purchase cycle
Do nothing or delay purchase: If the need is not deemed urgent enough, your organization may decide not to seek a solution
2. Approval to purchase
Depending on the strategic value, risk and cost of the problem, your purchase may require one or more levels of approval. Small, tactical purchases may not be required to go through the entire purchase cycle. Indeed, many organizations empower their teams to manage smaller purchases to ensure continued momentum.
Ideally, the parameters and process for this step of the procurement life cycle is defined clearly in your organization's procurement policy. This step in the procurement life cycle ensures visibility to the planned purchase and verifies that the budget is available. Many find a RACI matrix helpful in this scenario to plan who in the organization is responsible (R), accountable (A), consulted (C) and informed (I) on the project. 
3. RFX creation and administration
Once you have defined your need and obtained approval, you're ready to gather information from potential vendors using an RFX. While the request for proposal (RFP) is the most common way to compare vendors, you may choose to use a request for qualifications (RFQ) or request for quotation (RFQ) depending on your needs.
Explore this RFX selection guide for more information.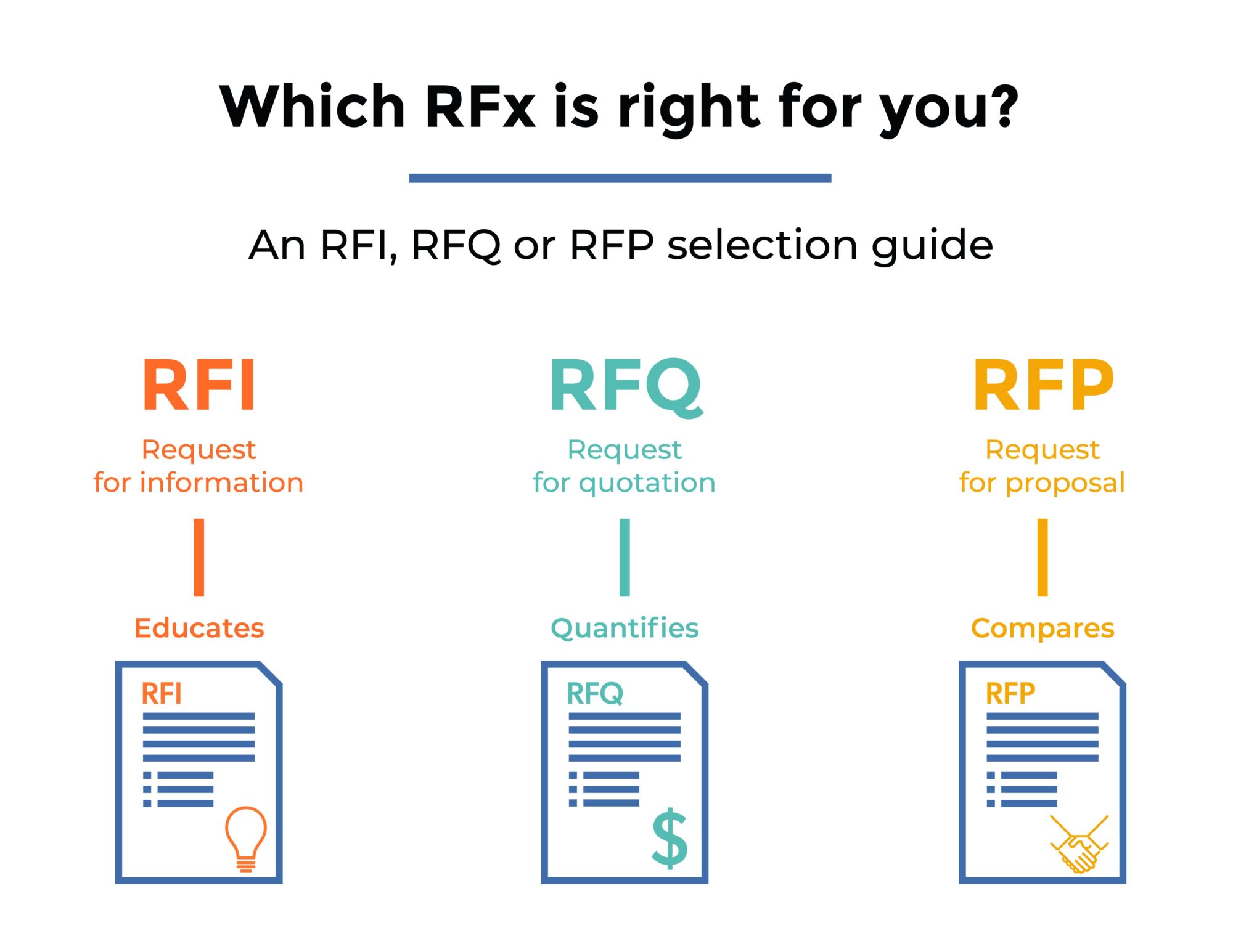 This step in the procurement cycle standardizes vendor information to make it easier to compare offers and make a data-based decision. Additionally, using an RFX helps to improve consistency and fairness, reduce risk, ensure competitive proposals and aids transparency.
4. Vendor evaluation and selection
After gathering responses from the RFP process, the procurement team should engage stakeholders to review and score the RFP. 
Hopefully, it will be easy and you'll have a clear leader. If not, you may decide to narrow your supplier selection and create a shortlist. Then, either send a supplementary RFP to clarify differentiators or request RFP presentations from the finalists.
Additionally, you may request supplementary information from each vendor to help you make your decision. For example, you could issue a security questionnaire, vendor risk assessment, sustainability report or supplier diversity information. 
5. Contract negotiation and payment
The next step in the procurement cycle is to formalize your deal. Send an award notification letter to your selected vendor to begin procurement negotiations. Remember, that the agreement should be mutually beneficial to ensure a long-term, valuable relationship.
Possible negotiation considerations
Statement of work and scope

Itemized costs

Payment terms

Contract length

Delivery dates

Performance expectations

Standard terms and conditions
Once the contract has been negotiated and signed, process the payment for services according to the agreed upon terms.
6. Implementation and delivery
Finally, the solution to your initial need is here. Whatever goods or services you purchased can be put to work. Understandably, some people view this as the end of the procurement life cycle, however, for most purchases, this step is ongoing. For example, if you've just purchased new software, your team will need to complete onboarding, training and then continually leverage the tool.
No matter what you've purchased, it's important to pay attention to this step to maximize the value of your investment. Be sure to verify delivery, track quality, and seek stakeholder feedback.
7. Vendor performance review
Like all relationships, vendor relationships need time and attention to thrive. So, it's important to schedule regular vendor performance evaluations. These reviews give you the opportunity to reassess the need. 
Is the original need being fully met?

Has the need changed? Grown? Evolved? 

Is the solution now more or less important?

Are there opportunities for improvement?

Is the price you're paying still competitive?
Potential actions after review:
Renew contract:

Everything is working perfectly and the vendor is providing value

Renegotiate:

Update, expand or alter your deliverables and expectations with the vendor

Restart the procurement cycle:

Get new offers, test the market and explore your options

Cancel the contract:

It's not working out, the vendor isn't a fit or the need no longer exists
Technology and tools used in the procurement life cycle
Because of the importance and potential complexity of the purchasing cycle, there are many procurement technology tools and resources available to make the process as efficient as possible. Here are a few recommendations that directly enhance the procurement life cycle.
Procurement intake form
In large organizations, managing the first step of incoming requests that identify stakeholder needs can be overwhelming. So, for many procurement teams, it's helpful to create a process and intake form that kicks off the first step of the procurement cycle. While you can create a PDF procurement intake form (like this one from Nova Southeastern University), consider using an online version for more consistent data collection.
Procurement policy
As mentioned above, having a clear procurement policy that addresses common questions and buying scenarios will help improve compliance. Not only that, but it helps to empower stakeholders, educate them about risk and more. 
For a head start on your new procurement policy, download this template: Procurement policy template.
RFP management software
From requirements discovery to RFP scoring, RFP management software makes a huge portion of the procurement cycle easier.
Stages of the procurement cycle enhanced by RFP software
Challenge or need identification: Capture information using internal stakeholder requirements discovery 
RFX creation and administration: Issue and manage your RFPs and vendor communications in the platform
Vendor evaluation and selection: RFP automation handles RFP scoring for you in seconds and easily engage stakeholders in the scoring process
Vendor performance reviews: Issue quarterly vendor performance reviews to receive updates and monitor progress
In addition to RFPs, the software can improve any request management project including vendor profiles, RFIs, RFQs, security questionnaires, DDQs and more.
Contract lifecycle management (CLM)
Keeping track of dozens of agreements can be a challenge. Fortunately, there are lots of contract management systems that make it a lot easier. CLM tools store contracts, track vendor information and create workflows, acting as a single source of truth for procurement teams. To explore contract lifecycle management solutions, check out recommendations on SpendMatters CLM SolutionMap.
Conclusion
Ultimately, your procurement cycle and process may be slightly different than the one outlined here. And, as long as it's efficient, reduces risk and maximizes value, that's okay. Every procurement manager and department must evaluate their needs and create a system that works well for them. Just remember, the more consistently you follow your procurement cycle, the easier the process will be.